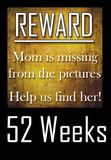 I know that this is a Thursday thing but I am just not that organized!!! So, here is a little shot of QB2 and I outside last week. This picture was taken by QB1..maybe photography is in his future..I sure do hope so, cuz I can spend me some money on pictures!!!
Don't forget to Join
Carin
and Link Up (on Thursdays of course)!